Top Products of 2019
January 6, 2020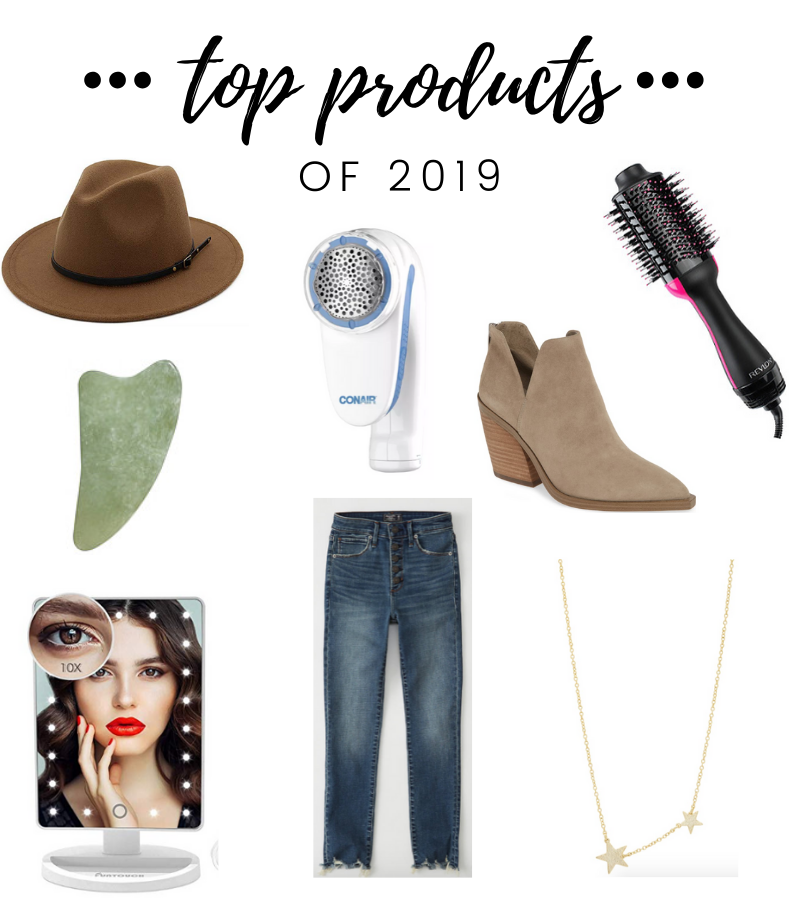 Before we jump into my top products of 2019, I just want to say happy new year! It's so hard believe 2019 is already over, it flew by for me! I hope this new year brings lots of clarity and new beginnings for all of you, you deserve it! As a way of saying goodbye to the old, what better way than sharing my top products of 2019!

Today, I'm going to be sharing my favorite, most worn and used items I've purchased within the year. My tried and true products!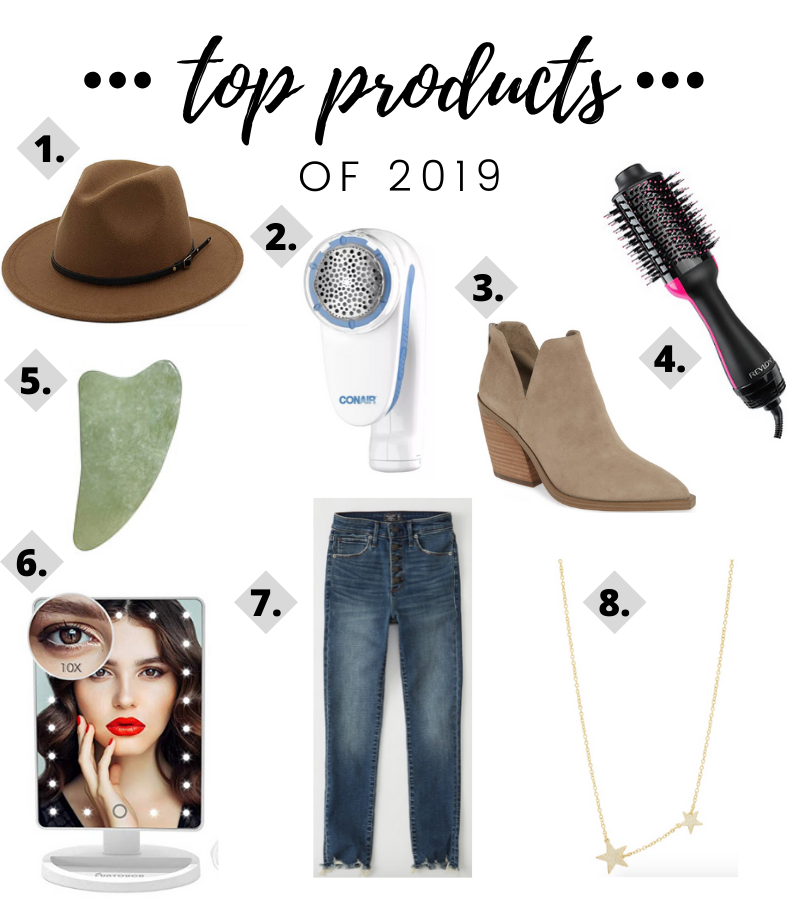 1. Amazon Hat, if you guys follow me on instagram you know how MUCH I wear this hat! It's just a fun piece to spice up any outfit. Not to mention it's under $20!!
2. Conair Fabric Shaver, everyone needs this in their life, it's a game changer!! I had a pair or Lululemon leggings that I was about to throw out because of the piling on them but after using this, they look almost brand new! I've also used it on my expensive J.Crew jacket and it worked wonderfully!
3. Vince Camuto Gigetta boots, another item you guys have seen a ton on my Instagram. I can't recommend these boots enough! They are on the pricier side but I have worn these boots to death and they still look brand new. They also look great with skirts, shorts and dresses!
4. Revlon One-Step Hair Dryer, this is a newer item but I've been loving it. It leaves a silky, smooth finish to your hair. Also, you can use the brush to create a bend at the end of your hair to make it look like you got a professional blow out!
5. Gua Sha, I hate to say it but I have been loving this tool so much more than my Jade Roller. It helps with lymphatic drainage, removes a lot of the puffiness in your face and tones your facial muscles. I especially love using it on days when my eyes look very tired!
6. Amazon Lighted Makeup Mirror, this has been my go-to mirror since I got it! It's compact and has a built in light which makes it's perfect to travel with.
7. Abercrombie jeans, not any specific style but I have been obsessed with them. They are excellent quality and come in a ton of different sizing options (short, tall and curvy)! I've turned a lot of my friends and even my boyfriend onto their denim!
*Here are some of my favorites that I own!

8. Gorjana Jewelry, this might be my perfect jewelry brand! Their pieces are so beautiful, dainty and have something at all price ranges! If you like moon and star things, they have a ton of cute pieces under $100.
*Here are some pieces I have from them

Items that you guys loved this year!
I just wanted to thank all of you guys for your support over the years. I've learned so much about myself  from running this blog and love being able to connect with you guys. I hope we can continue to build this community and create a space where we can all feel safe, inspired and connected!!
Anyways, hope you guys love these products as much as I have!
Do you have any of the items I shared? Let me know in the comments!