Valentine's Day Outfit + Easy Dessert
February 11, 2019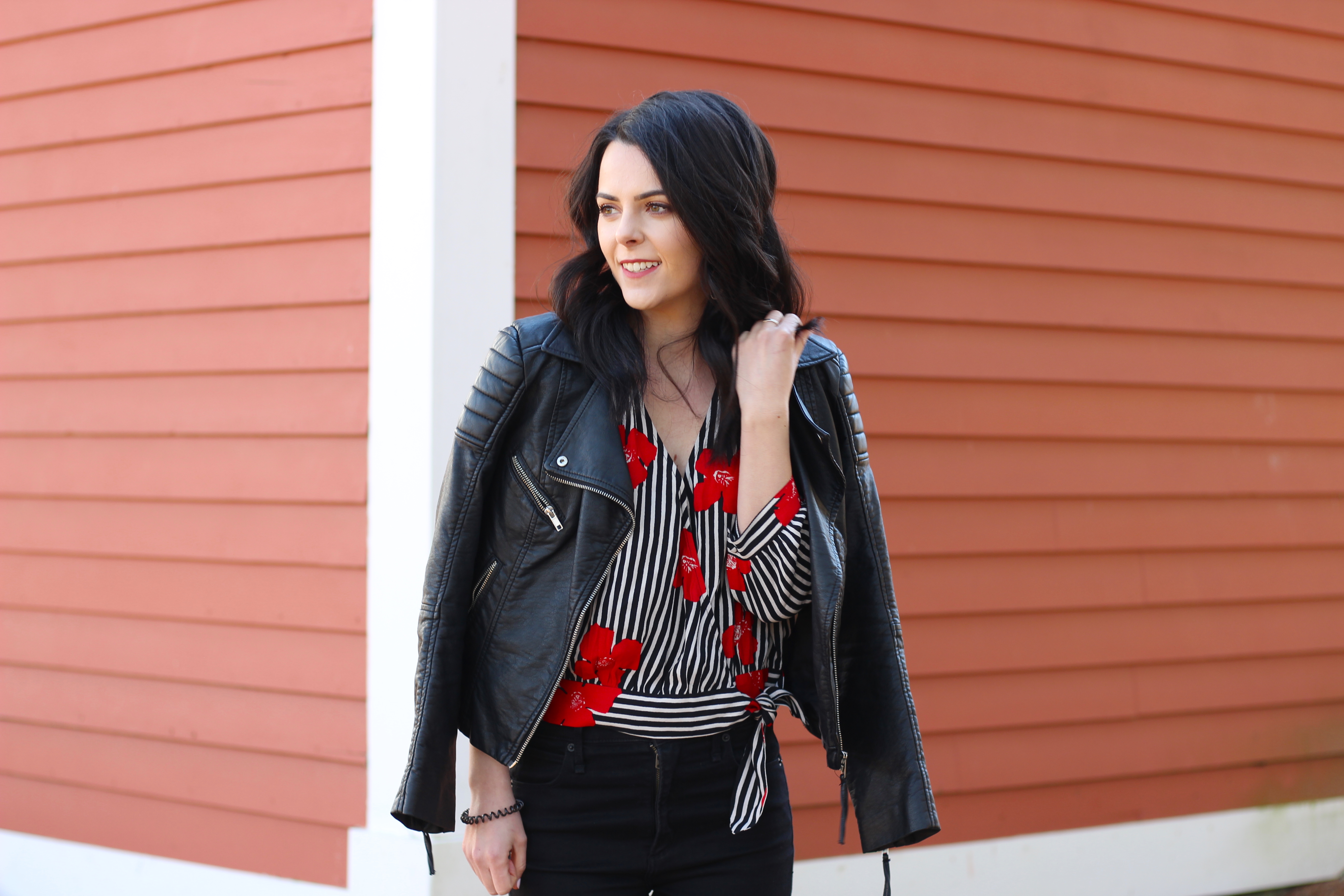 With Valentine's Day on Thursday, I thought I would show you this easy Valentine's Day outfit idea. Also, make sure you read till the end because I am also sharing a super easy dessert with you guys!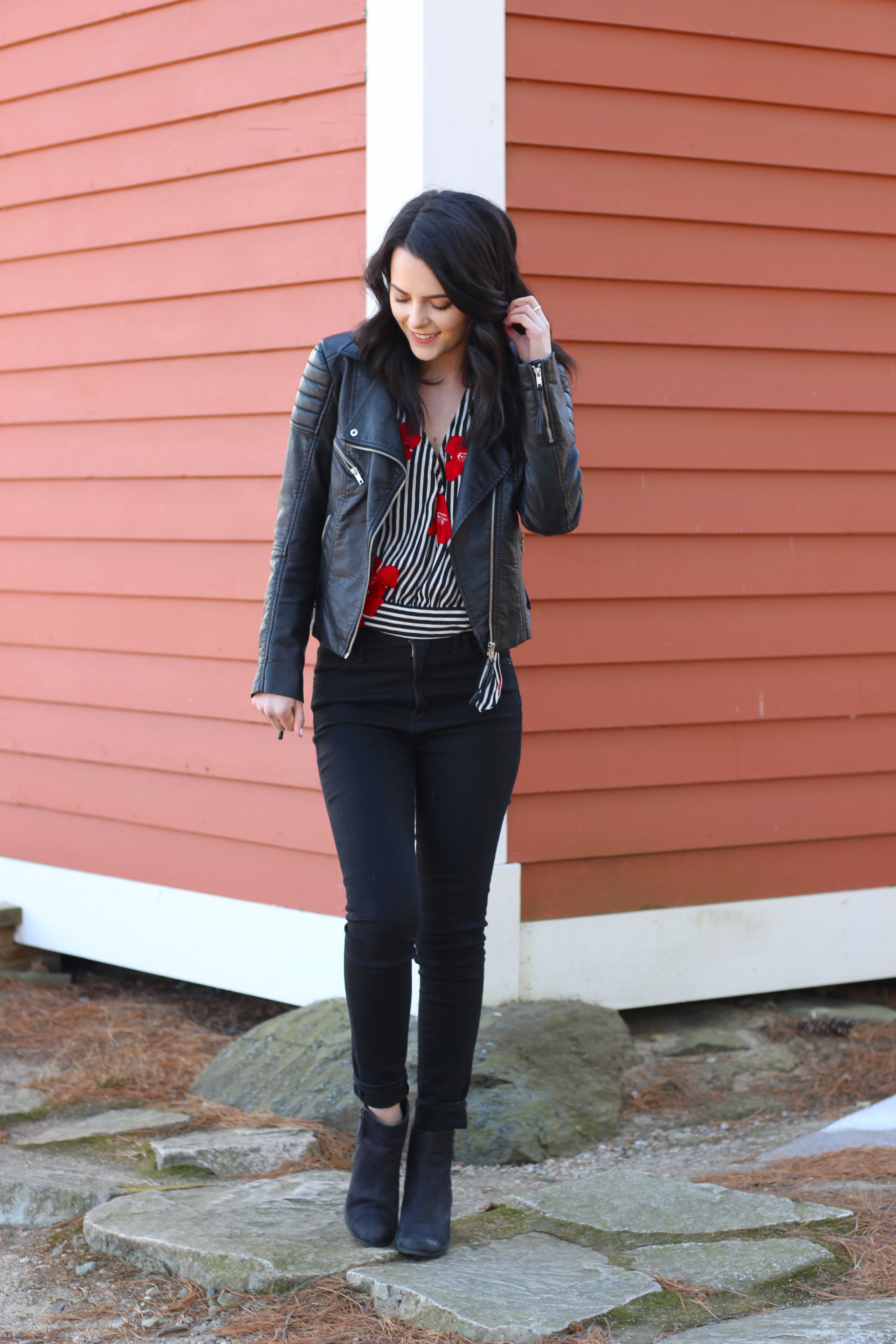 This is one of my favorite outfits I've put together. If you own a wrap dress or top this is the perfect time to wear it! Any sort of blousy top or nice camisole would work as well. Just add a pair of black jeans, boots and you've got a great Valentine's Day outfit. Since I haven't worn my faux leather jacket in a while, I thought this could be the perfect way to spice up this easy outfit. Get creative with what you already own!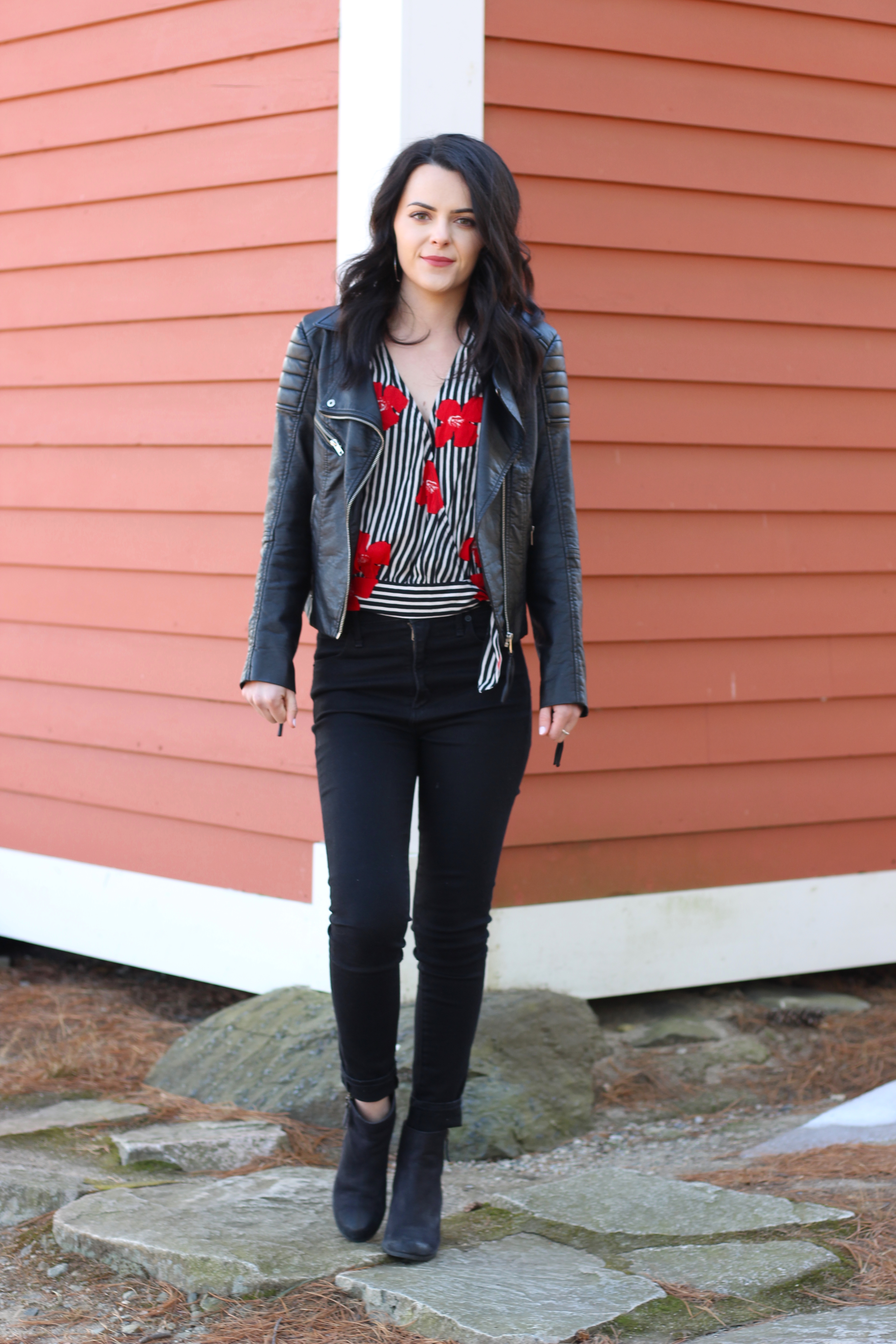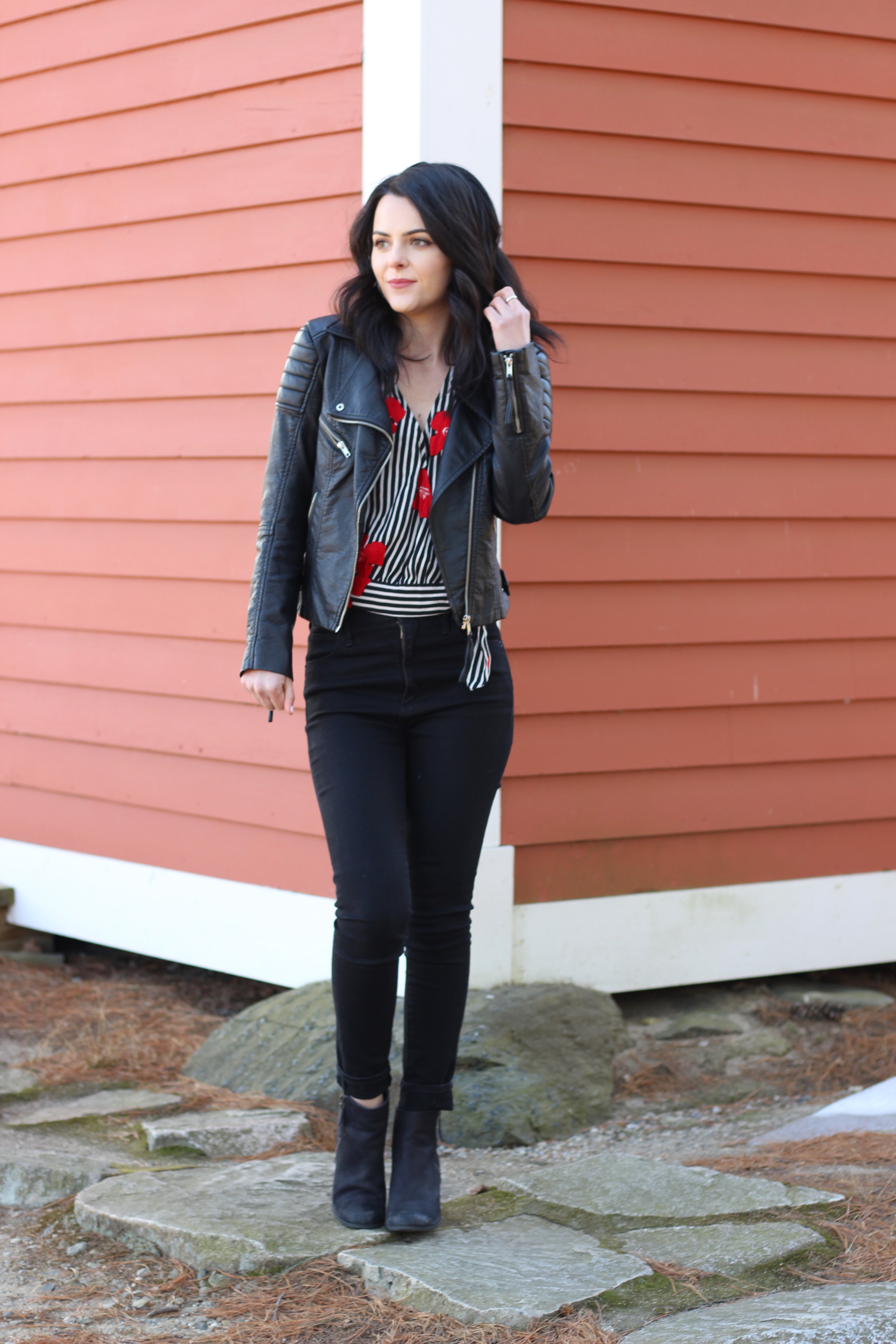 I wish I was able to link this top with you guys but it's completely sold out! I linked a few other options that would work!
Let's move onto the dessert!
I got this recipe from https://40aprons.com/paleo-chocolate-strawberry-coconut-butter-cups-vegan/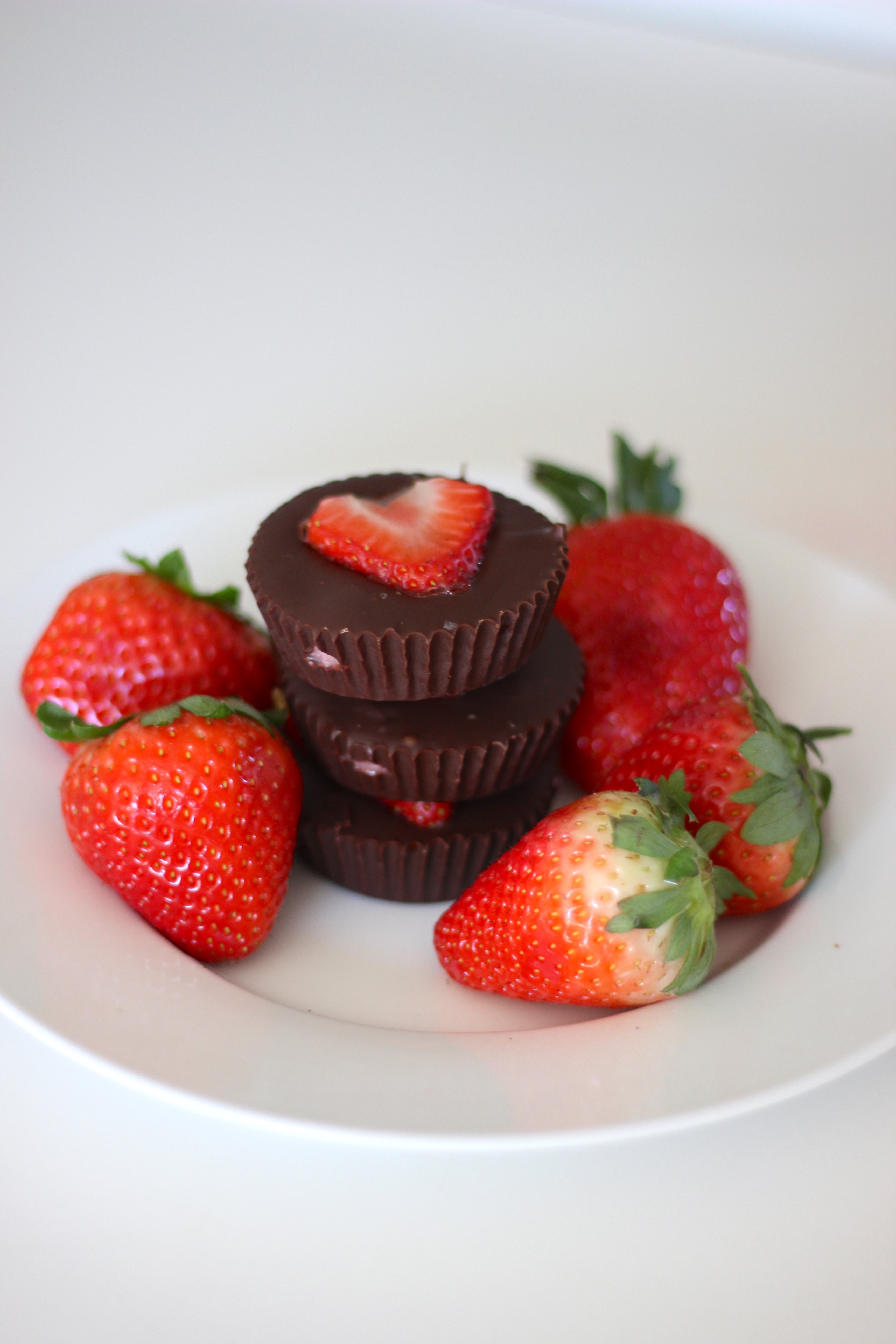 Ingredients:
2 cups of halved strawberries and a couple of slices to top with
1 tbsp Maple Syrup
1 tbsp Coconut Flour (or you can Almond flour)
1 bag of Chocolate Chips
2 cups Unsweetened Coconut Flakes
1 tbsp + 1 tbsp Coconut oil
Instructions:
1. In a blender, add 2 cups of unsweetened coconut flakes till it is a powder consistency. Then add in 2 cups of halved strawberries to the blender with the coconut flakes and blend. This is your strawberry coconut butter. Set this aside.
2. In a microwave-safe bowl, mix together half the bag of chocolate chips with 1 tablespoon of coconut oil in 30-second intervals until smooth. Be careful not to burn it!
3. In a muffin tin with the liners, fill up the bottom up each liner with melted chocolate (about 1 tsp). Just enough to cover the bottom. After you've done this, pop them in the freezer for 10 minutes to set.
4. While the chocolate is in the freezer, add 1/2 cup of the Strawberry Coconut Butter in a bowl with 1 tablespoon of the flour and 1 tablespoon of maple syrup. Mix to combine.
5. Scoop out about 1 tablespoon of the strawberry coconut butter mixture onto each chocolate filled liner.
6. Now start microwaving the next half of the chocolate chips (again with the 1 tbsp of coconut oil) until it is smooth. Then cover the Strawberry Coconut Butter with the chocolate and top each cup with a sliced strawberry!
7. Let them sit in the fridge for 30mins and they are good to go!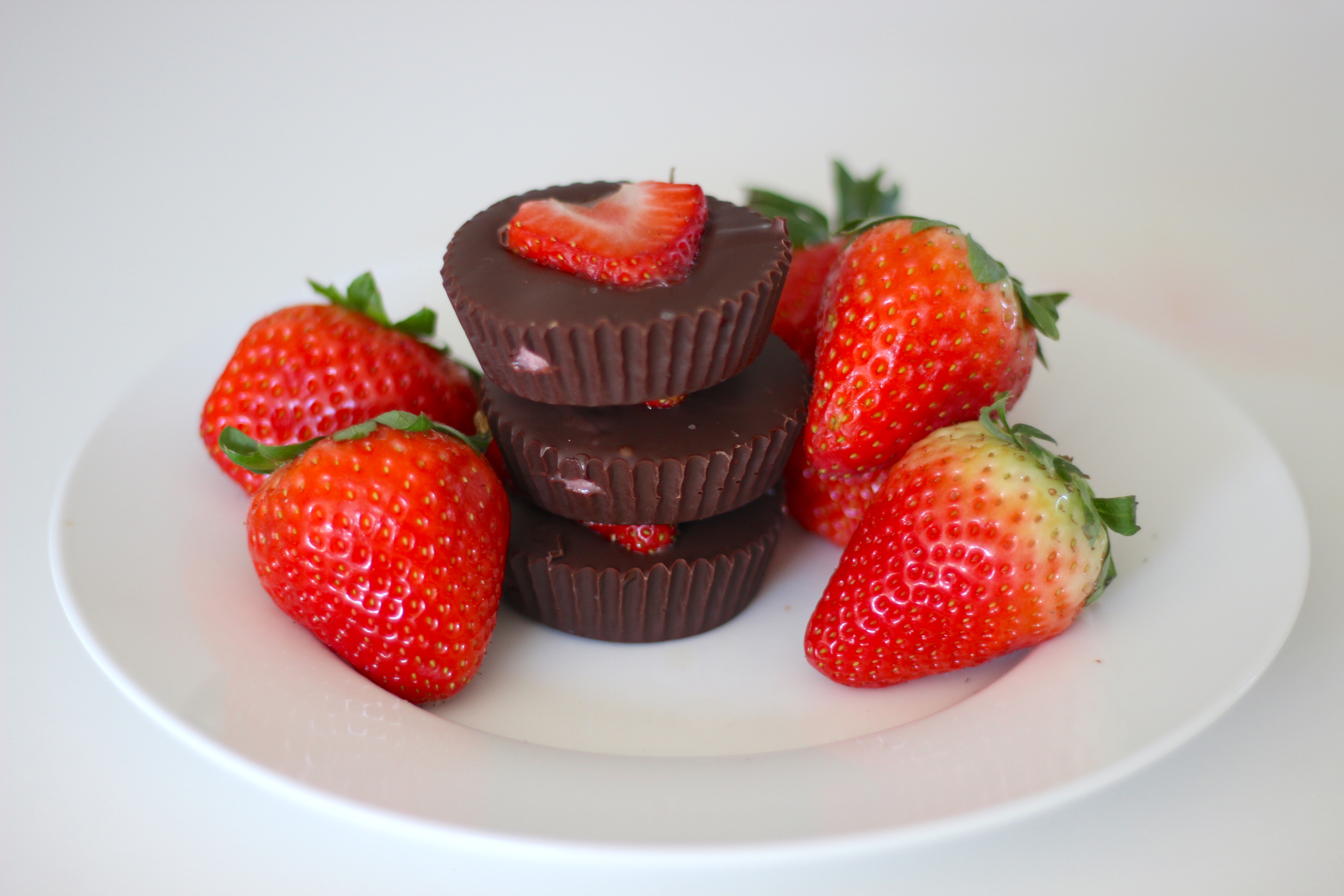 Don't you just love easy recipes like this with minimal ingredients! I also love how they aren't too unhealthy and of course, taste so good!
That's all for today! I hope you guys enjoyed this post! Let me know if you end up making these delicious treats.