Clean Makeup Products I Have Tried
August 26, 2019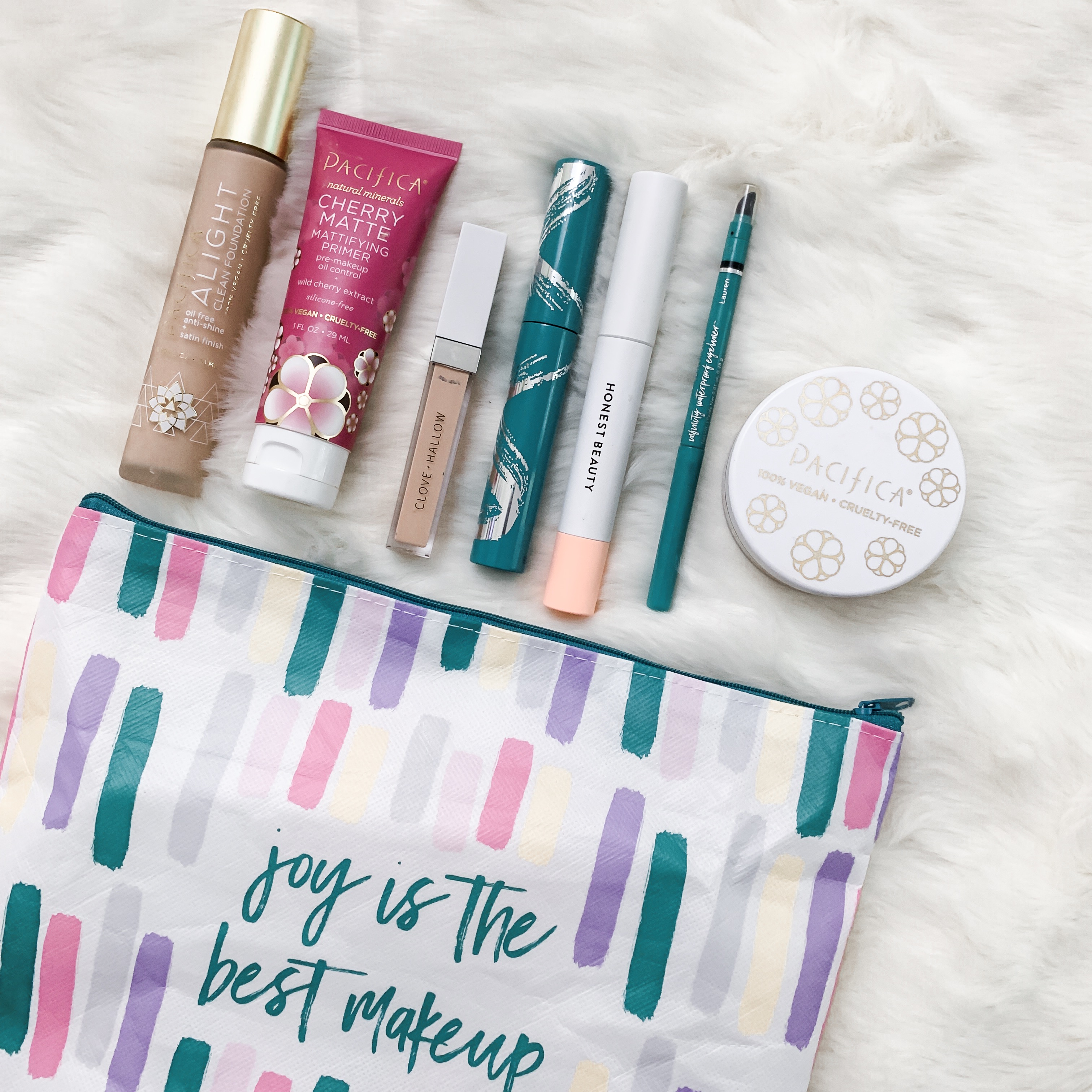 Have you been wanting to switch over to more clean makeup products but have no idea where to start? With all of these different clean beauty brands coming out, it can almost feel like a whole new world. To help make your transition smoother, I am going to be sharing which clean makeup products I have tried as of recently and what my thoughts were on them!

Over the last few years, I have been trying to be mindful of what I am putting into (and onto) my body. I got so sick of hearing about all the harmful ingredients and how unhealthy they are. The first stop on my journey was eliminating harmful cleaning products and now I am making my way into beauty products.
There aren't as many people talking about clean beauty products so it can be hard to know what's good and what isn't. I want to be a resource for you!
Before we move onto the products I have tried, I just wanted to let you know a little about my skin. I have dry, sensitive skin that makeup doesn't tend to last long on. With that said, just because a product I mention might not have worked for me, doesn't mean it wouldn't work for you!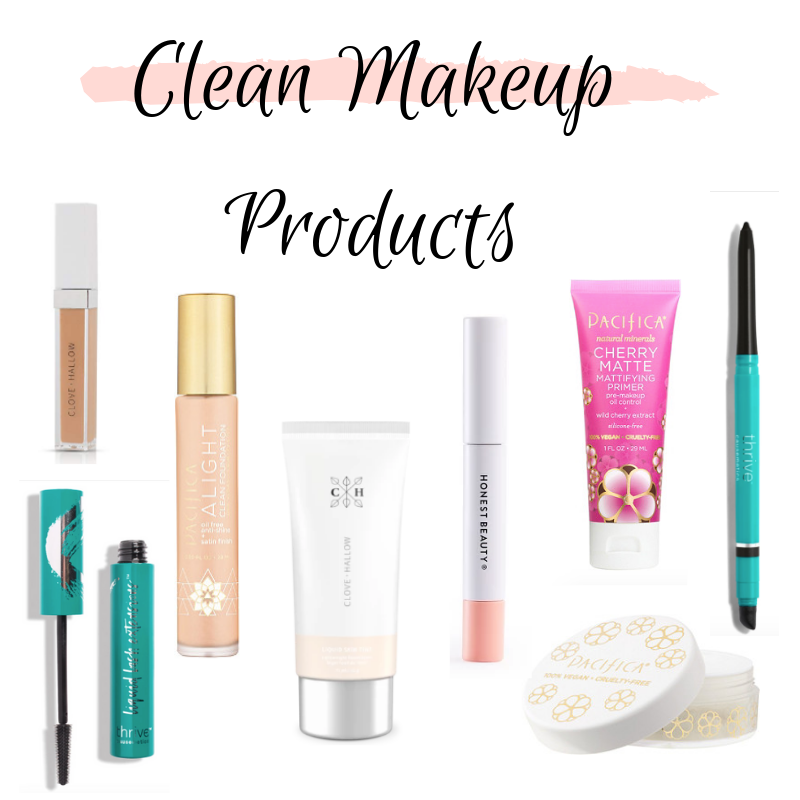 Claims: "Flawless but real-looking skin, bottled! This breathable, buildable foundation formula provides stunning medium coverage and a demi-matte finish. No caking or creasing, ever".
I would agree that it is a medium to buildable formula with a demi-matte finish. On my skin, this foundation was incredibly heavy, cakey and didn't last long. I tried applying a lighter layer, different primer and setting powder but nothing seemed to work. But I'm still determined to find a way to make this work for me!
Claims: "Creamy yet lightweight, this breathable liquid concealer offers buildable medium coverage without flaking, breaking, or caking".
I would say this is more of a light to medium coverage. Perfect for anyone using it to cover pimples or imperfections. I have been using it mainly to cover my dark circles and although it isn't full coverage enough, I would still say this is a pretty good concealer.
Tip: I recommend applying this with a brush first then going in with a beauty blender to smooth it out. I have tried to blend it out with just a beauty sponge and it ended up patchy.
Claims: " This lightweight mattifying primer is a support system for your skin, delivering a blurred focus finish with oil control benefits. So you can keep it together all day (or at least look like you are)".
When looking up reviews for this primer, a lot of people were saying that they didn't like it because it balled up on their skin. I didn't have that problem but I suspect that it's because they were rubbing it into their skin too much. Also, it's a stickier primer which means the makeup you put on top of it should really stick and last long on the skin!
This primer made my It Cosmetics CC cream hold up amazing all summer long but the strong cherry scent makes me wonder how much fragrance is in this product and if it would irritate someone's skin. Other than that it worked fine for me!
Claims: "Get the flawless coverage of your dreams in 30 shades designed for real skin tones. Our innovative, non-comedogenic, dermatologist-tested formula goes on smooth, covers pores and lasts throughout the day."
Unfortunately, this foundation does not hold up on my skin. After a couple of hours of applying it, my skin started to look cakey and even rub off. I've tried applying it different ways and setting it differently but nothing seems to work. If you don't have any issues with foundation wearing off and have dry skin, this might work for you but I wouldn't recommend this to any other skin types.
Claims: "Set your favorite look with this amazing matte powder. Full of natural ingredients for a skin loving treat."
I haven't had any issues with this setting powder. It does exactly what it claims and has worked well throughout the summer for me. My only complaint is the cherry scent issue.
Claims: "The long-lasting formulas of our 2-in-1 dual-ended mascara and lash primer work together to boost lash length, volume and definition. Use the lash primer first to create an even base and enhance the mascara's lash-lengthening performance, then follow with a coat of rich and smooth mascara to build extreme length and sky-high lift. The specially molded bristles of the mascara wand pick up and separate every last lash for dramatic definition without clumping."
I have a whole blogpost on this mascara. If you want to know more info (click here) but spoiler alert, I really like this mascara! It gives natural-looking lashes with some length. If you are looking for more volume, you might want to use it in conjunction with another mascara.
Claims: "Instantly create the look of lash extensions with this groundbreaking mascara powered by technology that won't clump, flake, or smear."
This is another mascara I've really been liking! It's a wetter formula than the Honest Beauty one so it gives a slightly more dramatic look. If you plan on applying 2 coats of this, I would recommend making sure your first coat is light so it doesn't get clumpy. I love layering this with the Honest Beauty Mascara!
Claims: "Semi-Permanent Micropigments™ keep this eyeliner on your eyes for over 24 hours."
I love using this eyeliner to create a soft, smudged out wing! I haven't tested it in my waterline so I can't attest to if it's long-lasting or not. Other than that, it has been a great eyeliner.
Well, there you have it, this is all the cleaner products I have tried so far! If you want to see more posts like this let me know in the comments!!
Thank you so much for reading!