Sephora Spring Savings Event
April 20, 2020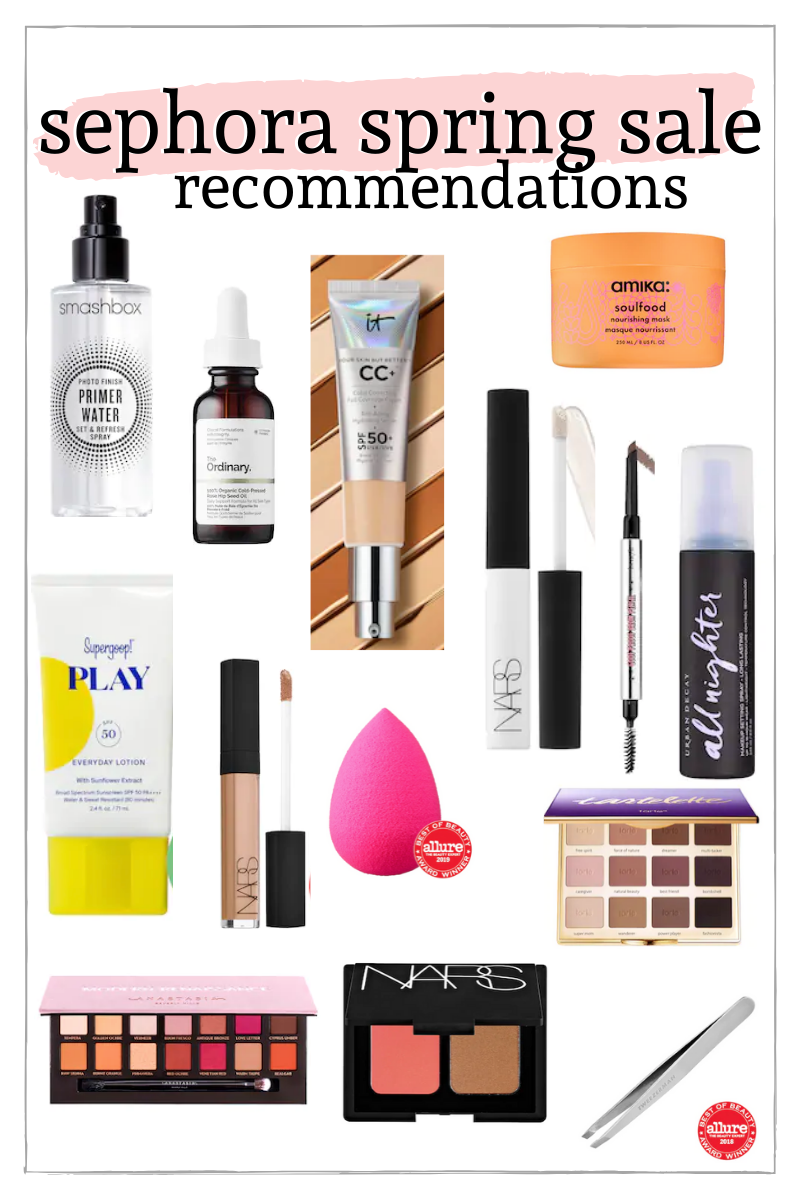 All right guys, let's talk about the Sephora Saving Event! Over on Instagram, I did a poll asking if you're planning on shopping the sale and an overwhelming amount of you guys said yes!
Keep reading to see which products I've tried and recommend! I'll also be sharing what's on my wishlist!

What you need to know
To shop the sale you are going to need to sign up to be a Beauty Insider. You can do that by Clicking Here.
Once you are signed up, log into your account to see which tier you are in. The different tiers are Rouge, VIB and Insider.
From there you can use this picture to help you figure out which days you are able to shop the sale.
This is a great sale to stock up on any of your favorite products or even more expensive products since Sephora doesn't typically offer many sales.
Ok, let's move onto the fun stuff!
Here are some products I've tried + love

*Each product name is clickable and will take you to the site
This is one of my favorite primers! I love that you can use it both as a primer and a setting spray. Also, since it's water, you can't feel it on your skin!
You guys won't believe how affordable this oil is! It's $10! I like to apply at night to hydrate my skin and to use it with my Gua Sha. It has helped a lot with the dryness and redness my skin experiences.
This is a product I've bought so many times and always find myself recommending it to friends. Even though this is a CC cream, you can make this full coverage. I typically apply it with my fingers first and then smooth it out with my beauty blender.
A really great deep conditioner that will nourish your hair. It also smells amazing!
This is such a great daily sunscreen. I use this both as a facial and body sunscreen.
One of my favorite concealers to use to cover my extremely dark circles. Unfortunately, since they test on animals, I won't be repurchasing anything from this line again but if this doesn't bother you, it's an amazing product!
My go-to tool for makeup application. There is never a day I don't use this when applying makeup, it helps everything blend into the skin effortlessly.
If you have oily eyelids or have a hard time with your eyeshadow showing up, this primer is amazing! I also love how thin it is!
A great eyebrow pencil that will last all day on your skin! I also like that it comes with a spoolie on the other side.
This setting spray is essential if you have an event or you plan on wearing your makeup all day! My friends and I used to use this every time we went clubbing (lol) and our makeup stayed on through the hours of dancing.
You can't go wrong with an Anastasia Beverly Hills palette! They all have such a beautiful color story and the shadows are very easy to work with. Such a great price as well!
Both of these are such iconic colors. The blush shade is a beautiful peachy pink shade that gives you the healthiest look and the bronzer is the nicest color to give a sunkissed look!
The tweezers you never knew you needed! Yes, they might be a bit pricey but they have such a strong/sharp grip that will grab the most stubborn hair. If you've ever used these tweezers you will know exactly what I'm talking about.
Now I thought it would be fun to share some items on my wishlist!


*Each item below is clickable and will take you directly to the product
Isle of Paradise Self Tanning Drops
Lawless The One Eyeshadow Palette
Kosas Tinted Face Oil Foundation
Ilia True Skin Serum Foundation
Indie Lee Discovery Kit
Kosas Revealer Concealer
Milk Hydro Grip Primer
Kosas Baked Bronzer
Dae Deep Conditioner Treatment
NudeStix Mini Nudies 3 Piece Kit
Please keep in mind, I haven't tried any of these items so I can't confirm how good they are. But most I've heard really good things about!
What do you plan on getting from the sale?! Let me know in the comments!