favorite items from amazon
January 4, 2021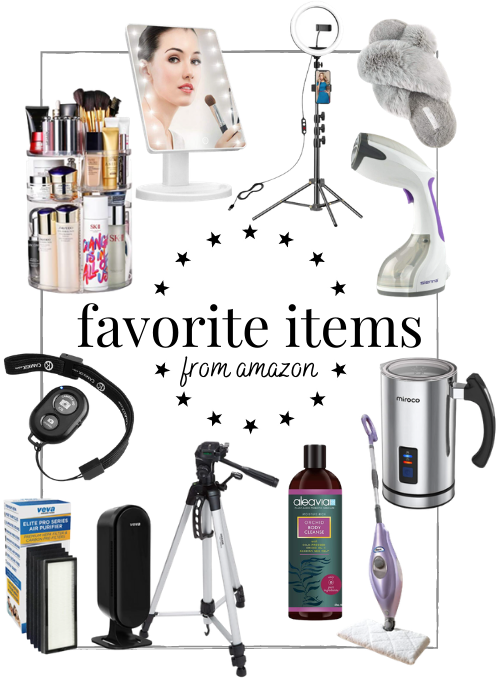 Coming at you with a blogpost sharing my favorite items from Amazon! Here you will find everything I'm loving from beauty to household items.

Now, I don't consider myself an Amazon expert shopper but I do have some items I highly recommend adding to your Amazon wishlist!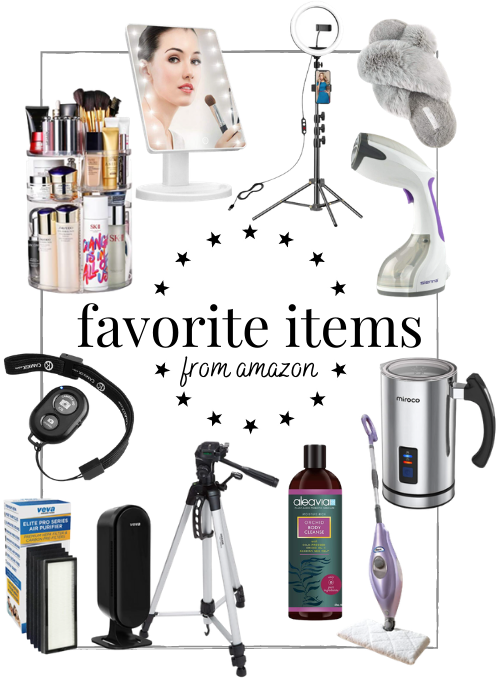 *Each item below is clickable
Rotating Makeup Organizer – This is the perfect organizer to store skincare, perfume and any other beauty items you reach for daily! For how many items you can fit in it, it's pretty compact and you're able to adjust the shelves!
Vanity Makeup Mirror – I can't recommend this mirror enough! It has the perfect lighting for putting on your makeup, which also makes it perfect for traveling as well. No more TERRIBLE hotel lighting anymore! haha
Ring light – If you're looking for something to brighten up your pictures or videos, this is the perfect and AFFORDABLE option! It's dimmable with different light tones and has 2 iphone attachments. With that said, this isn't a high-quality ring light so if you are a professional photographer you probably aren't going to like this but for anyone else, this works just fine.
Slippers – The famous Amazon slippers! Everyone loves these and for good reason. They are super soft and I love the slight platform they have. When you first get them they will shed for a while but after that, you shouldn't have any other issues!
Steamer – Another great item that's also easy to travel with! Love how easy it is to use and efficient.
Tip: You can use it to "sanitize" your mask in between washing 🙂
Camera Shutter Remote Control – If you've ever run into the issue where you're trying to take your own picture or even a family picture but you can't make it to your spot quick enough after putting the self-timer on, YOU NEED THIS! This seriously makes life so much easier!! It's bluetooth operated so all you do is click the button when you are all settled.
Air Purifier – If you suffer from allergies or have pets, this is perfect for purifying the air! We actually use this to help clean the air from my boyfriend's 3D printer that emits plastic into the air.
Tripod – A must if you film videos or take pictures! It also comes with a traveling case and is adjustable up to 6ft. You can't beat the price!
Body Wash – This is such a nice body wash. It's super gentle on the skin and would be great for those with sensitive skin. It also has great ingredients that won't strip your skin of its natural oils!
Steam Mop – Say goodbye to mopping with the mop and bucket. This steam mop makes life so much easier and less of a production. All you have to do is add water to the reservoir and your good to go! I also love that the pads are reusable and washable!
Milk Frother – For those of you trying to elevate your latte game! I've been using this for chai tea lattes, matcha lattes, and coffee. Prior to buying this, I was using one of those handheld frothers but this is so much better because you can get a better foam and you're able to heat the foam at the same time.
Now, I want to know what are your favorite items from Amazon? I'm always on the lookout for helpful and useful things so feel free to share your recommendations!
Happy 2021!