Nordstrom Anniversary Sale
July 12, 2021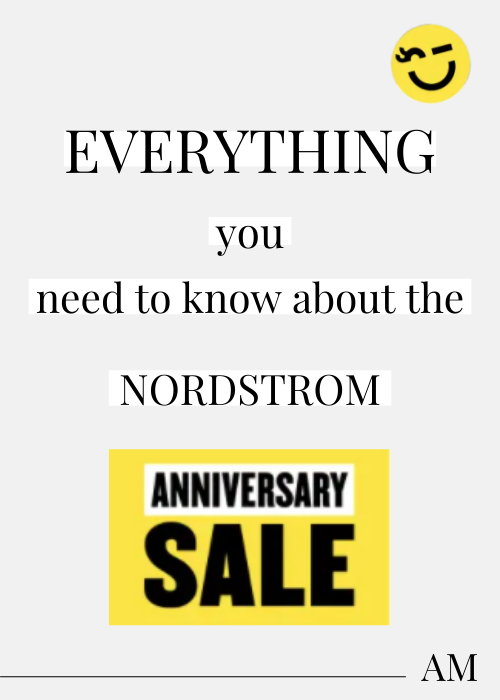 The famous Nordstrom Anniversary Sale is finally live to shop! Here is everything you need to know and what items I think are going to be popular!

If you are new to the Nsale or maybe you're a long time shopper, I thought it would be helpful to post all the information in one place.
What is the Nsale?
This is when Nordstrom puts out all the NEW fall items on sale! Once the sale is over, these items will still be available but at their full price. This sale only happens once a year which is why it's so popular!
How do I shop the sale?
You can shop online and in person. I typically like to check out both to make sure I'm seeing everything!
When can I shop?
The sale is divided up into different tiers. If you plan on shopping the sale, I would recommend signing up for a credit card with Nordstrom because item's tend to sell out quick. When you sign up, you are automatically in the "influencer" tier.
If you don't have a Nordstrom credit card, you can sign up here!


July 28 sale is open to the general public.
Some top selling brands that tend to be popular during this sale are Barefoot Dreams, Zella, Vince Camuto, Marc Fisher, Free People and so much more! They also have great beauty sets that I recommend checking out.
This sale is a great time to stock up on any items you think will take you into the fall and winter like coats, boots and other more expense staple items!
Ok, now that the we got the informational stuff out of the way, let's move onto the items!
*Click the "+" symbol on each item to be taken directly to the website!
Clothing

Shoes

Beauty

The links below are affiliate links and help support this blog!
I hope this post was helpful to you and if you have any questions please don't hesitate to contact me!